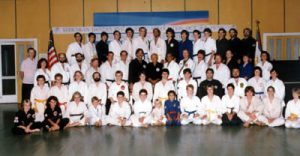 Our course of instruction is organized to mirror that taught by Professor Okazaki in the early 1900s.  Its content was validated by the late Professor Sig Kufferath, the Danzan Ryu School Second-Generation Headmaster and senior Okazaki student.

Shoden
Beginning Transmission
Yawara – Hand techniques
Nage Te – Throws
Shime Te – Constrictions
Yonenbu – Children's arts
Kappo – Resuscitation arts
Restoration Massage Therapy
Chuden
Intermediate Transmission
Oku No Te – Deep Arts
Fujin Goshin No Maki – Women's Self Defense
Kiai No Maki – Spirit Yell Instruction
Tessen No Maki – Fan
Tanto No Maki – Knife
Tanju No Maki – Pistol
Daito No Maki – sword
Bo No Maki –  fighting stick
Keri Te – kicks
Uke Te – blocks
Atemi- Strikes
Kappo – Resuscitation Arts
Restoration Massage Therapy
Okuden
Deep Transmission
Shinnin No Maki –  Black Belt Arts
Shinyo No Maki – Instructor Arts
Shingen No Maki – Professors' Arts (Koden)
Seifukujutsu – Healing Arts
Instruction fees and schedules are determined at the local level by the Dojo Sensei.  National Membership is expected for ranking. Our instructors are certified by the Board of Professors.
Additional Instruction
Yawara Stick
Zen Buddhist Meditation
Chinese Herbal Medicine
Moxibustion Therapy
Water Therapy
Shi Shi Mai (Lion Dance)
Danzan Medicine
Police arts
Summer Day Camp for Juniors